Welcome to Titan Cloud!
We are happy you found what you are looking for in Titan Cloud Storage Advanced Cloud Storage (ACS) product. Below you will find step by step instructions to get you started in the console.
In order to log into the portal, go to the URL that was provided in your welcome email. Each instance of ACS has their own unique URL. Example: https://company.console.titancloudstorage.com, where "company" will be replaced with the Organization ID that was chosen at sign up.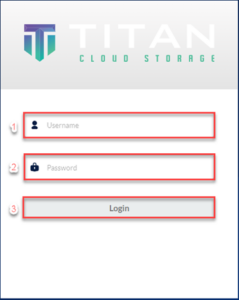 Username: Provided in e-mail
Password:  Provided in e-mail
Enter username
Enter password
Click Login